Date: Jan 15, 2023
Location: Antalya, TR
Company: Getinge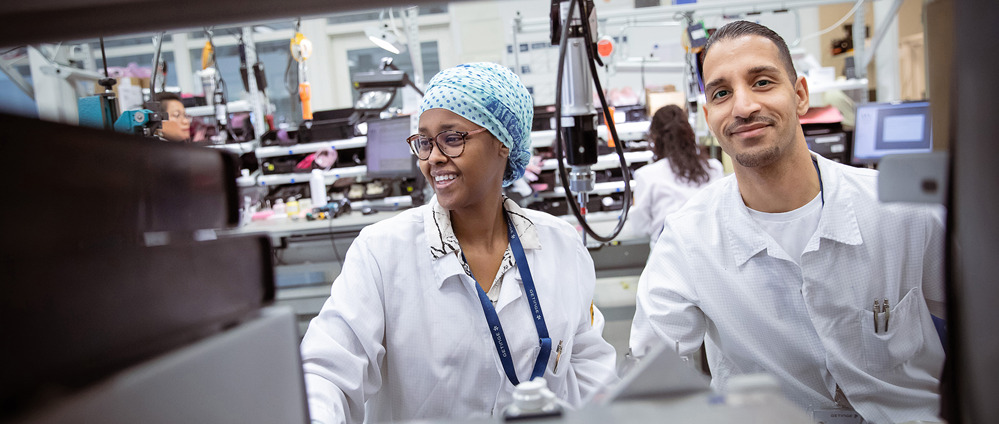 At Getinge we have the passion to perform
Join our diverse teams of passionate people and a career that allows you to develop both personally and professionally. At Getinge, our passion is to secure that every person and community have access to the best possible care, offering hospitals and life science institutions products and solutions that aim to improve clinical results and optimize workflows. Every day we collaborate to make a true difference for our customers – and to save more lives.
Are you looking for an inspiring career? You just found it.
Qualifications:
Bachelor degree in Engineering and technical or Health/Life Sciences departments of universities.
Min 2 years of experience in Quality Management Systems preferably in Medical Devices Industry
Good command of English is compulsory, German knowledge would be an asset
Knowledge of tools/ methodologies such as design control, risk management, root cause investigation methods, process validation, statistical process control (SPC), protocol/ report preparation.
Knowledge of ISO 13485, European Medical Device Regulation and FDA 21 CFR 820  requirements, understanding the medical device regulatory environment and requirements
Knowledge of ISO 11135, ISO 11137, ISO 11737-1, AAMI ST72 etc. related EO/Gama Sterilization, Bioburden, LAL and Envoiremental Monitoring System regulations
Familiar with QMS processes like Technical File preparation, CAPA, Complaint management, document control, internal audit etc.
Good knowledge of MS Office applications is required and SAP is an asset
Statistical data analysis, documentation and report writing skills
Internal auditor certification preferred
6 Sigma certification preferred
Exceptional analytical, problem solving & root-cause analysis skills
High level of attention to details and accuracy
Excellent communication skills, ability to work in a team environment and lead a project team
Ability to lead or work with multi- departmental project teams and resolve quality related issues in a timely and effective manner
Be self-motivated, self-starter, be able to meet deadlines, be a good team player, be able to assist and support others
Result oriented
Be open-minded and willing to learn
Ability to travel as required
Job Description :
For Quality Assurance Engineer position, four colleague will be hired and assigned to the appropriate main groups of Quality Management System listed below.
The person who hired will be responsible one or several processes in assigned group.
Quality Assurance  
Non-Conforming Product Management with using QDMS
Product Release
Control and approval of laboratory routine test results
Rework Process
HHE,FSCA, Hold processes
Customer Complaint Handling Management with usign TrackWise
Customer Complaints Reporting Process
Design Quality
Computerized systems validation
Control and approval of validation studies (Process, test method etc.)
Control and approval of Receiving Inspection plans
Control and approval of label designs/layout
Control and approval of Technical File Content
Monitoring and organization of Quality responsibilities in Change Management System
Design quality assurance processes
Control and approval of calibration forms
Compliance
Management of Corrective and Preventive Actions with usign TrackWise
Internal audits with using QDMS
Management of Document Control Process with using QDMS
External audits
QMS statistical analyzes
KPIs / Quality Objectives
Quality Management System Plans
Implementation of Global Procedures
Environmental Management System Compliance
Quality Management System trainings with using LMS
Quality Assurance – Supplier Controls
 Supplier audits (global and local)
Control and approval of supplier qualification
Control and approval of the approved supplier list
Trend and support of supplier complaints
Control and approval of supplier evaluation
Controlling the preparation and signing process of supplier contracts
Follow-up of supplier-sourced changes
Support to the supplier-sourced nonconformity management process
Quality Assurance - Sterilization & Laboratory
Control and approval of laboratory and cleanroom validation/qualification studies
Supporting the creation of laboratory microbiological (BB-LAL-environmental) and chemical (EO/ECH) test methods and programs
Control and approval of internal and external sterilization validation/qualification studies
Communicating and collaborating with external sterilization suppliers and test laboratories
Follow-up and support of routine sterilization activities
Annual laboratory and sterilization reviews
Cleanroom conformity assessments
Determining the hygiene specifications and rules of the areas and ensuring that these rules are followed
About us 
Getinge is on an exciting transformation journey constantly looking for new ways to innovate together with our customers to meet the healthcare challenges of the future. We are committed to diversity, equity and inclusion and to sustainability with a goal to be CO2 neutral by 2025. We believe in giving our employees the flexibility they need and make every effort to foster a learning culture that supports their personal development and creativity. Our passionate people hold our brand promise 'Passion for Life' close to heart. 
If you share our passion and believe that saving lives is the greatest job in the world, then we look forward to receiving your application and resume. We hope you will join us on our journey to become the world's most respected and trusted medtech company.