Engineer, Process/Validation - Englewood, CO
Position Eligible for Remote Work: 
1-2 days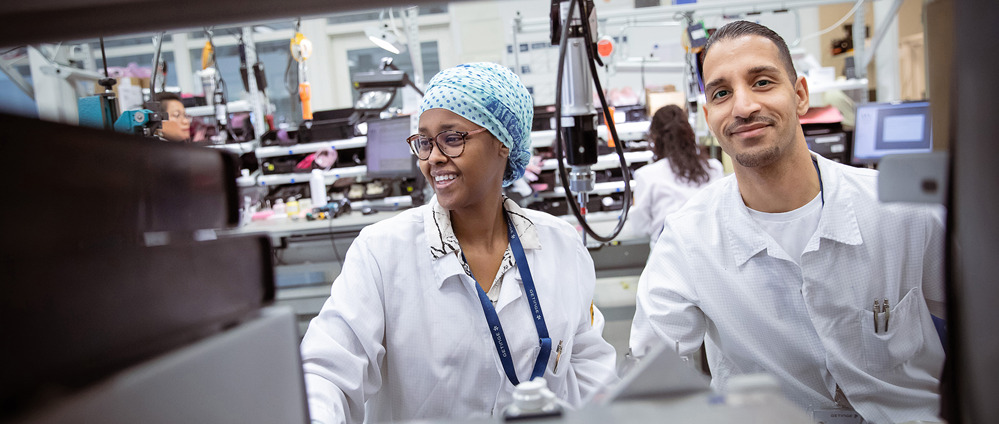 At Getinge we have the passion to perform
Join our diverse teams of passionate people and a career that allows you to develop both personally and professionally. At Getinge, our passion is to secure that every person and community have access to the best possible care, offering hospitals and life science institutions products and solutions that aim to improve clinical results and optimize workflows. Every day we collaborate to make a true difference for our customers – and to save more lives.
Are you looking for an inspiring career? You just found it.
Steritec Products, Inc., a member of the Getinge, manufactures sterilization and cleaning medical device consumables using ink technology. We manufacture and print highly specialized proprietary inks that undergo specific color changes when exposed to different sterilization conditions in hospital and industrial/pharmaceutical sterilizers.
Located in the beautiful Inverness Business Park, SteriTec Products, Inc., offers a generous benefit package (including access to health insurance, time off accruals and 401k participation - day of hire), a robust PTO program and fully supports the "work/life balance" philosophy.
This is an on-site role and will require a signed Getinge Protective Covenant Agreement, due to our FDA and ISO product catelogue.
This position is on-site in Englewood, Colorado.  
Salary range:  $66,000 - $83,000 w/ potential 8% bonus
Job Functions: (Primary "essential" duties and responsibilities) 
•    Works to improve efficiency and effectiveness of manufacturing and other facility processes.  
•    Provides Process Design Engineering guidance to R&D, Manufacturing and Product Development.
•    Assists with process flow documentation and design including process steps, workflow and material handling techniques.
•    Assists with applying statistical analysis techniques.
•    Assists with R&D protocols for new product introduction.
•    Provides input to new equipment designs with emphasis on concurrent engineering and improved productivity techniques.
•    Assists with process documentation generation and maintenance.
•    Participates in new equipment qualification and validation.
•    Participates in process and test method qualification and validation.
•    Assists in special projects as needed.  
•    Contributes to team effort by accomplishing related duties as requested.
Required Knowledge, Skills and Abilities: 
•    Successful project management experience is required.  
•    Experience in problem solving and troubleshooting using statistical and analytical tools required. 
•    Excellent communication skills, ability to work in a team environment and ability to lead a project team. 
•    Demonstrated knowledge and application of Lean concepts preferred.
•    Demonstrated creative problem solving in a regulated manufacturing environment.
Minimum Requirements:  
•    Bachelor's Degree in Engineering, or equivalent.  
•    Minimum three to five year progressive experience in a medical device environment. 
•    Experience in analysis of manufacturing processes, development of process improvements and validation of process changes desired.
•    Knowledge of statistical techniques and sampling for process validation and process monitoring is desired.
•    Basic computer skills including word processing and spreadsheet experience required.  
•    Strong MS computer skills including MS Office Suite (Word, Excel) are required.
•    Working knowledge of Minitab preferred.
•    Experience with Agile PLM or other documentation management system desired.
Quality Requirements: 
•    Build Quality into all aspects of work.
•    Ensure compliance to all FDA and Worldwide Quality & Compliance regulations (As applicable to your job function).
•    You must have the education and experience to understand and comply with U.S. and Worldwide medical device regulations (As applicable to your job function).
•    Attend all required Quality & Compliance training at the specified interval.
•    Adopt the "Beyond Compliance Quality Culture" in the work environment; always meet and exceed requirements.
•    Must practice verbatim compliance (exact compliance, no interpretation) with corporate Quality and Regulatory procedures (As applicable to your job function).
•    If your job description requires customer facing activities, you must thoroughly understand and comply with the Customer complaint reporting process and complaint procedures (As applicable to your job function).
•    Must be able to promptly report any non-compliance issues to Director QA, RA, Compliance officer or appropriate administrator, including the Compliance Hotline.
•    Must be competent with 21 CFR 820 and any other applicable federal regulations, and Quality standards (As applicable to your job function).
Environmental/Safety/Physical Work Conditions:  
•    Ensures environmental consciousness and safe practices are exhibited in decisions.
•    Duties are mainly performed in an office environment.
•    Duties may be required to be performed in a controlled environment following specific gowning procedures.
•    May work extended hours during peak business cycles.
•    The individual must occasionally lift and/or move up to 15 lbs. 
•    Ability to utilize computer and telephone equipment and other related office accessories/devices to complete assignments.
•    While performing the duties of this job, the employee is frequently required to stand, walk and sit.
•    The employee must have use of hands to finger, handle or feel objects, tools, or controls; reach with hands and arms; speak and hear.
•    Specific vision abilities required by this job include close vision, distance vision, color vision, peripheral vision, depth perception and the ability to adjust focus.
The physical demands described here are representative of those that must be met by an employee to successfully perform the essential functions of this job.  Reasonable accommodations may be made to enable individuals with disabilities to perform the essential functions.
 
Supervision/Management Of Others:  N/A
Internal and External Contacts/Relationships:  
•    Internal: Team members (including contractors), all Getinge colleagues including the executive and leadership team, Finance, Purchasing, Quality, R&D, Logistics and Inventory Control teams.  Follow up with all levels of management for clarification/approval on reports as needed.
•    External: Contractors, consultants, vendors, 3rd party providers, etc.
Disclaimer:
All job requirements are subject to possible modification to reasonably accommodate individuals with disabilities.  Some requirements may exclude individuals who pose a direct threat or significant risk to the health and safety of themselves or other employees.
This job description in no way states or implies that these are the only duties to be performed by the employee occupying this position,  it is not an exhaustive list of all responsibilities, duties and skills required for the position.
Employees will be required to follow any other job-related instructions and to perform other job-related duties requested by their supervisor in compliance with Federal and State Laws.
Requirements are representative of minimum levels of knowledge, skills and/or abilities.  To perform this job successfully, the employee must possess the abilities or aptitudes to perform each duty proficiently.  Continued employment remains on an "at-will" basis.
About us 
Getinge is on an exciting transformation journey constantly looking for new ways to innovate together with our customers to meet the healthcare challenges of the future. We are committed to diversity, equity and inclusion and to sustainability with a goal to be CO2 neutral by 2025. We believe in giving our employees the flexibility they need and make every effort to foster a learning culture that supports their personal development and creativity. Our passionate people hold our brand promise 'Passion for Life' close to heart. 
If you share our passion and believe that saving lives is the greatest job in the world, then we look forward to receiving your application and resume. We hope you will join us on our journey to become the world's most respected and trusted medtech company.

Nearest Major Market: Denver
Apply now »