TECHNICIEN DE MAINTENANCE ITINERANT IC/LS- Rennes (H/F)
Apply now »
Date: Feb 2, 2023
Location: Massy, FR
Company: Getinge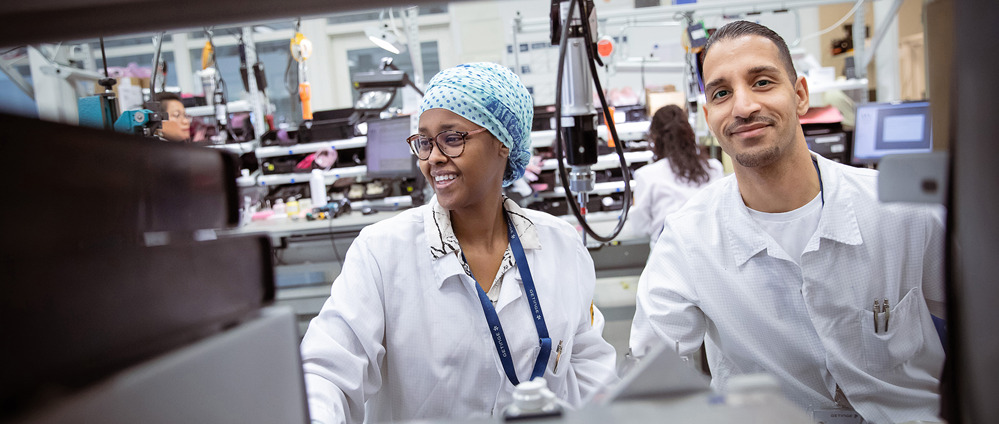 At Getinge we have the passion to perform
Join our diverse teams of passionate people and a career that allows you to develop both personally and professionally. At Getinge, our passion is to secure that every person and community have access to the best possible care, offering hospitals and life science institutions products and solutions that aim to improve clinical results and optimize workflows. Every day we collaborate to make a true difference for our customers – and to save more lives.
Are you looking for an inspiring career? You just found it.
Acteur mondial de 1er plan dans le secteur des technologies médicales, le Groupe Getinge fournit les blocs opératoires, les unités de soins intensifs, les services de stérilisation et les acteurs des sciences de la vie,en solutions innovantes !
 
Grâce à notre expérience unique et nos partenariats étroits (experts cliniques, professionnels de la santé, spécialistes de l'industrie médicale), nous contribuons à améliorer au quotidien la vie des patients.
 
Notre offre produits s'articule autour de 3 divisions :

- Division Acute Care Therapies (ACT) : matériel de chirurgie et de réanimation (ventilateurs d'anesthésie et de réanimation, systèmes d'assistance cardiorespiratoires, prothèses et stents vasculaires, monitorageetc.)
- Division Surgical Workflows (SW) : équipements de bloc opératoire (tables, éclairages, bras, blocs à parois modulaires, logiciels de traçabilité etc.) et de contrôle de l'infection (IC) (laveurs d'endoscope etstérilisateurs etc.)
- Division Life Science (LS) : matériel à destination des industries et des laboratoires (isolateurs, laveurs et autoclaves GMP, packaging stérile, systèmes de transfert etc.)
 
Getinge France, filiale de distribution française du groupe, emploie 300 personnes dont 50% en itinérance, au service de nos clients, en France entière.
 
Nous recherchons, pour notre Département Services, un(e) :

TECHNICIEN DE MAINTENANCE ITINERANT (H/F)
Contrôle de désinfection en milieu hospitalier, laboratoire ou industrie pharmaceutique(IC/LS)
CDI à pourvoir dès que possible
Couverture géographique : Rennes (et départements alentours)
Sous l'autorité du Manager Régional Service, vous réalisez les missions suivantes :

- Sous la coordination administrative du Service Client, vous réalisez la maintenance préventive et curative des équipements de stérilisation et de lavage auprès de vos clients,
- Vous procédez à l'installation et à la qualification de nouveaux matériels,
- Vous gérez votre stock de pièces détachées et le suivi de vos Equipements de Contrôle, de Mesure et d'Essai (ECME),
- Vous réalisez le compte-rendu administratif de vos opérations techniques,
- Vous contribuez à la productivité de nos opérations de maintenance : qualité des dépannages, taux de réussite au premier passage, juste consommation de pièces détachées,
- Vous communiquez vos actions, en véritable professionnel, auprès de vos clients en prenant soin de les conseiller et en veillant à assurer leur satisfaction,
- Vous êtes force de proposition pour permettre le développement commercial de l'activité Services sur votre secteur,
- Vous fournissez les éléments techniques pour réaliser les devis.

Profil :

- De formation CAP/Bac Pro ayant poursuivi en BAC+ 2 Electrotechnique / Maintenance Industrielle ou Maintenance des Systèmes, vous justifiez d'une expérience de 3 ans sur un poste similaire en contact avec l'industrie ou le secteur hospitalier,
- Titulaire du Permis B, vous avez impérativement une expérience de l'itinérance (Déplacements quotidiens à prévoir),
- Compétences en électrotechnique requises,
- Connaissances de base en mécanique et thermo-hydraulique,
- Compétences en électronique,
- Bonnes notions d'anglais technique,
- Ayant le sens du contact client, vous êtes organisé(e), réactif (ve), autonome 
#LI-ND1
About us 
Getinge is on an exciting transformation journey constantly looking for new ways to innovate together with our customers to meet the healthcare challenges of the future. We are committed to diversity, equity and inclusion and to sustainability with a goal to be CO2 neutral by 2025. We believe in giving our employees the flexibility they need and make every effort to foster a learning culture that supports their personal development and creativity. Our passionate people hold our brand promise 'Passion for Life' close to heart. 
If you share our passion and believe that saving lives is the greatest job in the world, then we look forward to receiving your application and resume. We hope you will join us on our journey to become the world's most respected and trusted medtech company.